Perhaps motorized blinds will be the finishing touch on your smart home, or perhaps you realized you simply had to have them during a recent hotel stay. Whatever it was that piqued your interest in motorized blinds, chances are that you have some questions about whether or not they are the right solution for you and your home: Besides being a really cool gadget, what other benefits do they confer? Are they really as easy as they look?
The reasons that people decide to install motorized blinds are as diverse as the homes that feature them, but our customers frequently report that one or more (usually more!) of the following were considerations in their decision.
The Convenience Factor
It's impossible to discuss whether or not motorized blinds or shades are the right solution for you without examining the convenience factor. Motorized blinds not only obviate the need to worry about unsightly and annoying cords, but they also allow you to adjust all of your blinds (even the most hard to reach windows or skylights) to your desired position quickly. Add to this the fact that you can raise and lower your blind with the touch of a button from your smart phone, and it is motorized blinds FTW!
Though opening and shutting blinds and shades is not in itself such an onerous task, consider what else is associated with opening and shutting your blinds: Untangling the cord, making sure the blinds are oriented in the right direction, making sure they are even. Now, repeat this process across all of the windows in all of the rooms of your home. It's no wonder that many people leave their shades in the same position day in and day out! It's just easier.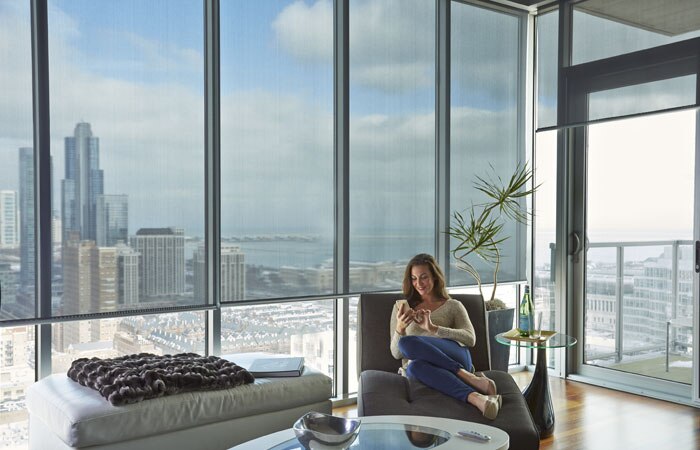 As Part of a Smart Home Solution
While we may not be living like the Jetsons just yet, more and more consumers are looking for ways to manage their homes simply and intuitively and to integrate those controls with the devices they rely on each day. We have the option to install smart thermostats, which regulate the temperature of our home, alarm systems that allow us to view our entryways remotely, and built-in speakers connected by WiFi. The choices for consumers interested in connected living are expanding every year and the products are getting, well, smarter and smarter.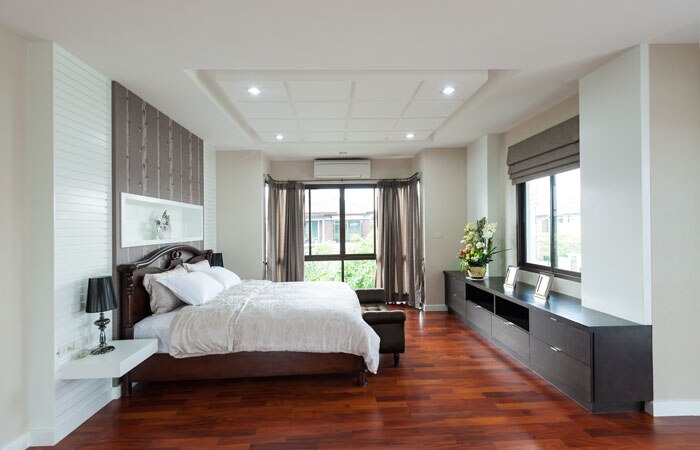 Whether your smart home is ready to blast off to a galaxy far-far away, or this is your first foray into connected living, you most likely want your motorized blinds to integrate seamlessly into your life. That means you want to be able to control them from your smartphone, or schedule them to change position. You probably also want them to contribute to the overall ambiance and appeal of the room, without adding a lot of clutter or noise. Cordless and quiet, your motorized blinds or shades are a huge step towards smart.
Greening Your Home
People who make the switch to motorized blinds often do so because they are interested in home energy management. If this is important to you, then motorized blinds or shades can offer some attractive benefits: When you coordinate your shade position with the position of the sun, not only do you reduce your energy consumption, but you reduce costly energy bills.
Consider this: The U.S. Energy Information Administration estimates that the average US household uses about 10,908 kilowatt hours of energy consumption, with homes in Louisiana using the most energy and homes in Hawaii using the least.
Consider also then how much energy that same household expends cooling a room that bakes in the sun all day or heating a room that could be warmed by the sun. As part of your heating and cooling system, motorized blinds help you make smart energy decisions, enhance the comfort of your home, and save money. That's a win-win-win for those looking to green their homes!
Customization is Key
In today's smart, efficient home, customization is key and the window treatment industry has risen to the occasion. With more shade and blind options than ever to choose from, consumers can create a customized window system that transforms their space and ticks all the boxes, from the aesthetic to the functional.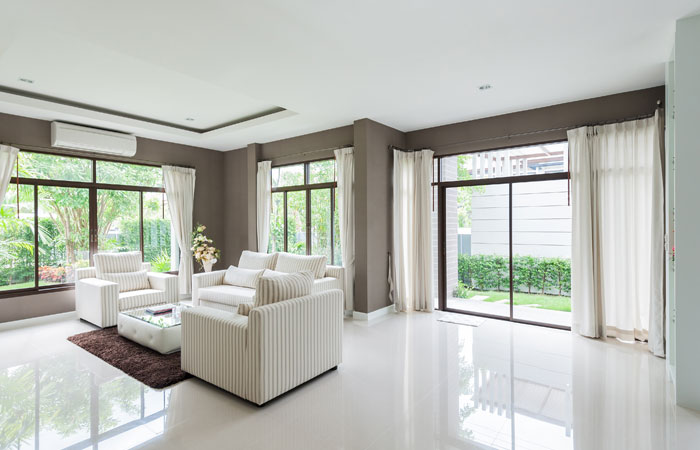 Your Somfy motor is designed to work with a variety of window treatment styles, including Roman or woven shades, roller shades, and pleated or cellular shades. You don't have to privilege motorization over style because a motorized solution can work and enhance almost any style of blind you fancy.
Good Blinds Make Good Neighbors
In addition to all of the aesthetic, environmental, and financial reasons already discussed here, motorized blinds have important security benefits as well. Much as you might put a light on a timer while you are away on vacation or for a long weekend, the simple act of changing the position of your blinds can make it appear to outsiders that someone is at home. If you are interested in building more low-key yet effective security measures into your home's daily routine, motorized blinds could be a great solution for your home! While your motorized blinds will not take the place of an actual home alarm system, they can be an important component of making your home safer.
Protect Your Furniture
Another important benefit of motorized blinds is that, when timed with the time of day, they can protect furniture, photos, and art from sun damage. Somfy also offers sun sensor technology, which detects when sun hits the window and closes your blinds accordingly. Are you looking to keep your striking peacock blue couch striking? It may be a showstopper now, but if the sun beats down on it each day for several hours at a time, you can expect its vibrant colors, along with your mood, to dampen. The same goes for hardwood floors, wall paint, and those treasured family photos. Unless you plan to drape your belongings in sheets for most of the day, you likely are looking to find a solution.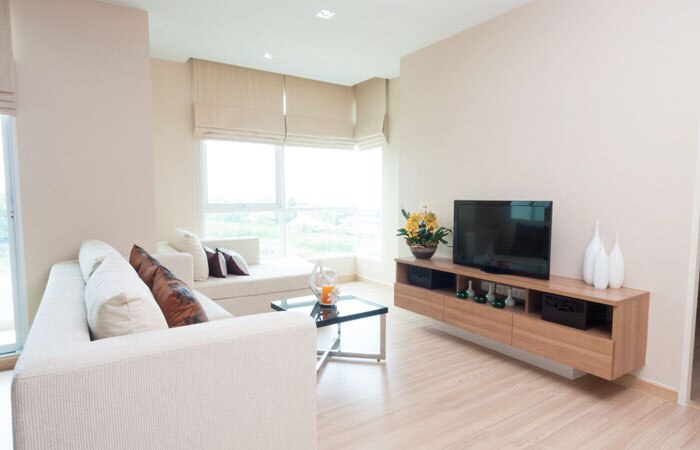 Instead of allowing your prized possessions to bleach and bake in the sun, simply calculate when peak sun hours are in a specific room, and schedule your motorized blinds to close during that time period. When the sun moves on, your blinds can open up and let the gentler light in, keeping furniture, photos, floors, walls, and art light and bright!
Are motorized blinds and shades the best fit for you?
The benefits of motorized blinds are clear: They allow you to transform your space into the connected home of your dreams, while at the same time saving energy. However, despite all of these pluses, it's important to consider how motorized blinds fit into your overall home design plan and budget.
Motorized blinds or shades cost more than traditional counterparts, of course, because you have to purchase a motor for each set of blinds. While in the end, you will get more out of your motorized blinds and will likely save money on your energy costs down the road, the upfront price tag should be something that fits into your budget.
Additionally, keep in mind that installing motorized blinds is typically something that you'll need to call on a professional to do. If, after weighing cost and installation logistics alongside all of the benefits, you decide that motorized blinds are right for you, congratulations! You have some fun decisions to look forward to just down the road.